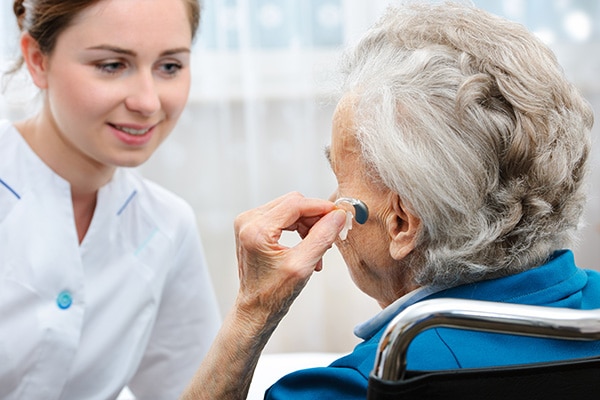 While it is true that hearing loss becomes more prominent of a possibility as a person ages, it may surprise you to know that 65% of people who have some form of hearing loss are younger than 65 years old. The American Academy of Audiology states that hearing loss constitutes such a large percent of the population that it ranks the third most common health problem in America.
Visiting an audiologist to have your hearing checked regularly is an important part of healthy living. An audiologist will be able to administer proper tests and recommend the right kind of hearing aids if needed. Using a hearing aid if applicable, can add many benefits to your life.
Benefits Of Hearing Aids
Hearing aids can offer a variety of benefits to a person. Hearing loss can often be accompanied by tinnitus or a ringing sound in the ears. There is no cure for tinnitus, but hearing aids can reduce symptoms.
There has also been a link between untreated hearing loss and dementia. Untreated hearing loss can lead to the part of your brain responsible for hearing to atrophy which can then lead to a loss in cognitive functions. Hearing aids can help prevent this from happening.
Hearing loss can also lead to diminished personal relationships. Miscommunication is a huge factor when it comes to strained relationships, and with hearing loss, you can misinterpret not only their words but also their tone. Hearing loss can also be linked to depression from isolation and avoidance of noisy activities. Hearing aids will improve your ability to maintain healthy relationships and keep up with your life.
Hearing aids can also lead to greater independence and a higher quality of life. If you are not able to hear conversations or your surroundings, you may have to rely on others in order to complete simple tasks. Hearing aids allow you to maintain your independence. Having your independence and good relationships helps you to have a higher quality of life.
Best Hearing Aids For Seniors
There are six basic styles of hearing aids that each has many different types within that category. Knowing which will suit your needs best can only be done with the help of an audiologist. Knowing the basics can help you during your appointment:
Behind-the-ear (BTE) hearing aids are comprised of the mechanical parts in a housing case that rests behind the ear. A small tube then runs from the main housing into a customized earpiece that rests inside the ear canal. They are the biggest hearing aid and are the most common kind. They are best suited for moderate to severe hearing loss.
Receiver-in-canal (RIC) hearing aids are smaller than BTE hearing aids and tend to be a sleeker design. The speaker for these hearing aids are inside the ear canal, and the main device is connected with a thin wire. They are not as powerful, so they are best used in cases of mild or moderate hearing loss.
In-the-ear (ITE) hearing aids are even smaller still and are able to be custom-fit to the person. Each ITE is built based on individual specifications. All the electrical components fit in a plastic casing that can fit inside the outer portion of the ear. They can be used for mild all the way to severe hearing loss.
In-the-canal (ITC) hearing aids are also custom made and are even smaller than ITEs. Only a small part of the hearing aid can be seen in the outer ear. There are a variety of faceplate covers and can help people with mild or mildly severe hearing loss.
Completely-in-canal (CIC) hearing aids are also custom made and are designed to fit entirely in the ear canal. There is a small handle piece that can be seen that is used to insert and remove the device, but that is all that shows. They are so small that they can present problems for people with dexterity issues. They are able to help people with mild to moderate hearing loss.
Invisible-in-canal (IIC) hearing aids are the smallest form of hearing aid available. They are made to be inserted into the second bend of the ear canal, so when properly in place, you cannot see it at all. Because they are so small, they are not suitable for all cases.
While you may have an idea as to the kind of hearing aid that will work best for you, consulting with your audiologist will help you make the final decision. You can call Kampsen Hearing at (813) 369-5692 to make an appointment.