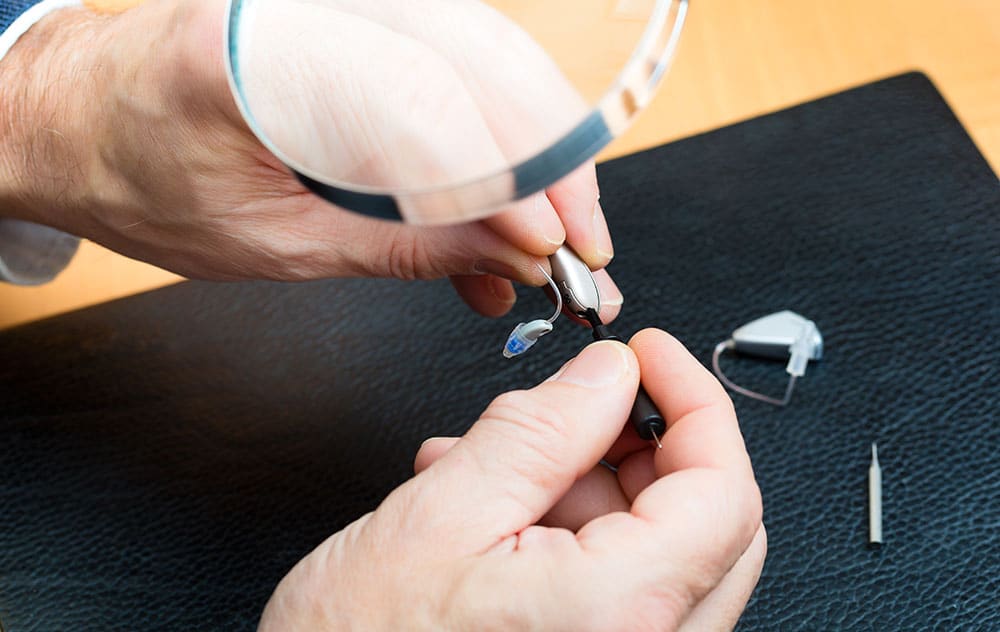 If you have been diagnosed with hearing loss, your hearing aids are among the most important items in your life as they provide added clarity and volume to restore a sense of normality to your daily existence. However, this is only made possible when you keep them in perfect condition, which is why caring for your hearing aids should be considered a crucial responsibility.
Several steps can be taken to protect your hearing aids for long-term reliability. Here's all you need to know:
Clean Your Hearing Aids
Miscellaneous dirt and debris are the greatest threat to your hearing aid devices, which is why keeping them clean should be top of the agenda. Always.
The nature of the beast dictates that earwax will be in regular contact with the devices. Cleaning with a dry cotton swab at the end of each day (or if you've noticed a drop in performance during the day) will make a significant impact.
It's equally important to replace the wax filter and change the wax guard periodically. Otherwise, wax (or other dirt) can reach the internal components of the device, which could spell curtains.
Avoid Moisture
While dirt will gradually play havoc with the performance of the hearing aids, water damage can ruin the circuitry in an instant. This can be very costly and very frustrating.
Modern hearing aids tend to be water resistant, which significantly reduces the risks. Nonetheless, it is advised that you remove them when showering, swimming, or entering a body of water – unless wearing them is paramount to your safety.
If water does touch the casing, it's important to wipe the device thoroughly (but gently) with a towel to prevent penetration to those internal components.
Store Them Properly Overnight
Most users will naturally do all that they can to protect their hearing aids during the daytime. However, handling them with care should not end when you go to sleep.
The harsh reality is that dust and dirt particles can accumulate overnight. Embracing the habit of turning your devices off and then placing them in a storage container will help prolong the lifespan of the hearing aids. It also prevents the threat of misplacing them.
Falling asleep with devices on could potentially lead to damage as you toss and turn too. It's the easiest tip, but one of the most ignored, so always properly store your devices.
Have Back-Up Power
Battery-related issues are the source of distorted performance far too often, and simply changing them will resolve a number of temporary issues including dropped power and lost volume.
It's additionally worth noting that leaving batteries in for too long allows them to corrode while moisture can enter the circuitry to leave more permanent damage. In most cases, batteries need to be changed every few days, but consulting your manual or audiologist is advised.
When the devices aren't used, open the battery door. Or if you won't be using them for over 24 hours, remove the batteries altogether.
Maintain Your Devices
Hearing aid devices are more robust than ever before. Still, they are fairly delicate products that rely on several features to work smoothly for the best results. A small fault can cause major issues.
If wearing a behind-the-ear (BTE) device, for example, damage to the tubing could be the source of major trouble. Likewise, if the earmolds used for in-the-ear (ITE) devices become misshapen, this will likely affect the performance. While the solution is easy, nothing can be done if you fail to identify the issue.
Replacing those faulty or worn parts can make a world of difference to the immediate comfort and long-term performance. Do not overlook it.
Keep Them Professionally Monitored
Daily care is essential for the ongoing health of your devices, but it's equally crucial to gain professional support on a periodic basis.
The audiologist can treat your hearing aids to a professional standard clean that will surpass anything you've done at home. Additionally, they can provide further advice on how to keep them in great health over the coming weeks, months, and years.
When combined with the fact that they can recalibrate the devices to tailor their performance to your needs, regular visits are essential.
Let Us Help
Whether you want your hearing aids to be professionally cleaned, need to discuss the prospect of upgrading to new devices, or wish to book a hearing test, the Kampsen Hearing team are here to help. Give us a call at (813) 369-5692 today and let us evaluate the functionality of your device.