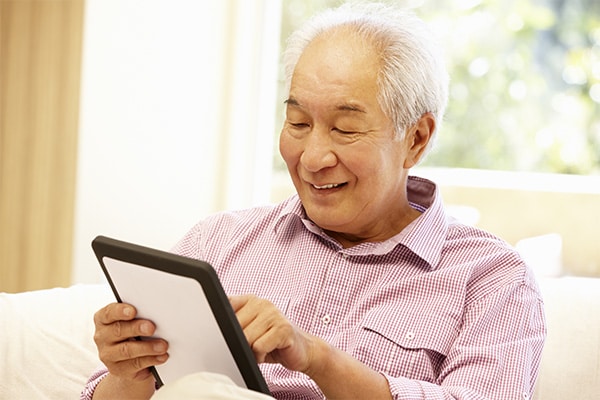 Watching television when you wear hearing aids doesn't have to be difficult. You should be able to hear your favorite shows, without having to turn the volume up too loud on either the TV or your hearing aids. You shouldn't have to put up with feedback, distortion or distracting background noise. Hearing aids often have features that help you to hear your television more easily. However, there are also different hearing aid accessories available that can help to make watching TV easier for you. These accessories might be wireless devices that connect to both your TV and hearing aids. They can also be wearable devices or perhaps even accessories that you plug into your hearing aids. Kampsen Hearing offers a few options for improving your TV experience, and we can also provide advice about which accessories to choose.
Personal Amplifiers And Streamers
One of the options that you have for watching TV is personal amplifiers, which you can pair with TV streamers. If your hearing aids don't feature wireless technology such as Bluetooth, you can still stream audio from your TV directly to your hearing aids. A personal amplifier can often be used with several devices, from your hearing aids to headphones. They can be connected to Bluetooth devices or used together with a TV streamer to stream TV audio direct to your hearing aids or chosen device too. Some of these items are suitable for even those with severe hearing loss and can be recharged so there's no need for lots of batteries.
Bluetooth Streaming
If your hearing aids feature Bluetooth, you can also stream television audio directly to them. Simply connect your hearing aids to your Bluetooth-enabled television to get clear audio and block out any distracting sounds. In addition to connecting to any TVs that feature Bluetooth, you can also connect to other Bluetooth devices that you might use to watch TV. These could include your computer, tablet or smartphone. This means you can watch TV and movies on the move too, and not just at home. Many modern hearing aids now feature Bluetooth, but if your hearing aids don't have Bluetooth, you can choose from a range of accessories that do.
Wireless Systems With Neckloops
One of the wireless options that you might consider using to watch TV is a neckloop, which connects to a wireless system. The system can be plugged into your television and it will send audio to the neckloop that you wear. These work with hearing aids or cochlear implants when you use the loop or T-coil setting. Just like you receive the benefit of this setting in various environments such as banks, stores or churches, you can also make use of this feature at home.
Ear hooks offer another similar option. These also connect to the loop system of your hearing aids, but you hook them behind your ears. Both ear hooks and neckloops can be used for other listening tasks, such as talking on the phone or listening to music.
Amplifying Speakers
You might also consider the use of amplifying speakers for watching TV. Kampsen Hearing offers HyperSound speakers, which use ultrasonic technology to beam high-quality sound directly to listeners. These speakers improve sound clarity without the need to wear headphones or connect to any other devices. The system produces better delivery of sound so that you don't end up having to turn the volume up all the way just to hear. If you wear your hearing aids while using amplifying speakers, you might need to adjust them to get the settings right.
Phone Apps
While a phone app isn't directly used to help you listen to the TV, it can be very useful. Apps like the one from Phonak help you to connect to different devices and control your hearing aid settings remotely. Phonak offers two apps, one which connects directly to their Audéo B-Direct hearing aids, and one which you can use with a body-worn streaming device. If you're using various types of technology to connect to different devices, from your TV to your phone, it makes sense to be able to control everything with one tool. Having an app on your phone means you have a single device you can use. And it's one that you already carry with you most of the time, so you don't need a separate remote control or anything else.
Call (813) 369-5692 to find out more about how we can help you get the most out of your hearing aids and compatible technology.