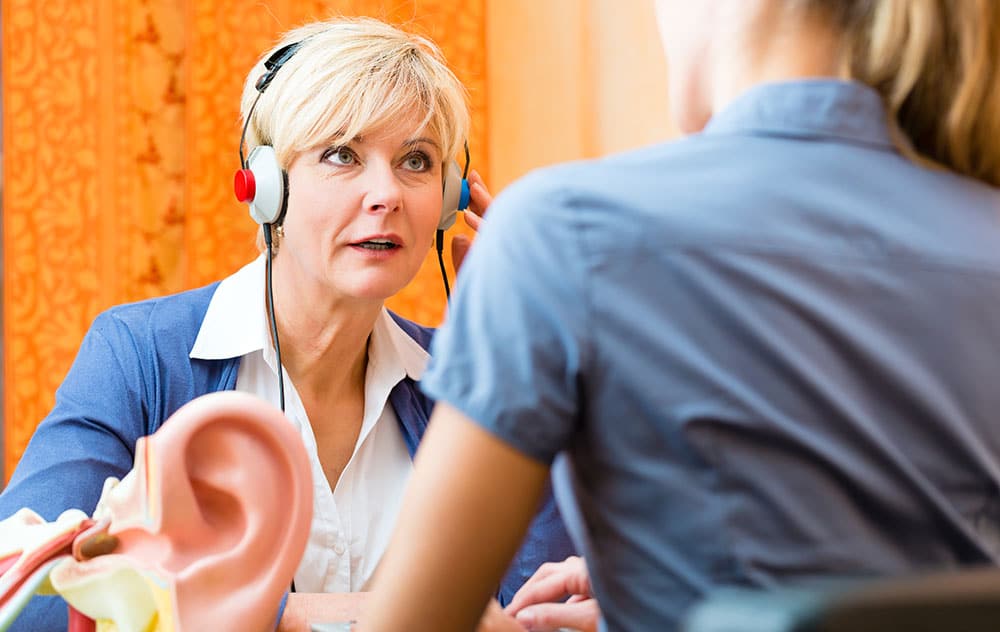 Every now and then, you may find that your doctor asks you to go for a hearing test. Although it may seem daunting, a hearing test doesn't necessarily mean that there is something wrong. It's simply a way for audiologists to make sure that your ears are working well. 
In most cases, these appointments will come with age as around 14% of people ages 45-64 have some degree of hearing loss. After the age of 65, this rises to more than 30%. If you're over the ages listed above, you may find that your doctor recommends you test your hearing with an audiologist every few years. Before that, the recommendation is to have it tested every 10 years or so. Therefore, your doctor will want to test your hearing every few years, rather than just once as an adult. Experts recommend that adults get their hearing tested every 10 years until age 50, and then every three years after that.
Why Should You Think About Getting Your Hearing Tested?
So, why do you need to go for your hearing test? Whether you suspect you have hearing loss or you're not experiencing any issues, attending regular hearing tests is important.
If you do have suspected hearing loss, booking an appointment to see an audiologist should be a priority. Whether you have trouble hearing people talk in a crowded room or you have to turn the TV up to a high setting, it's important you know when to recognize the signs as early as you possibly can. In a lot of cases, some people may not even realize that they have a problem as it because it is a gradual loss. This is one of the main reasons it's important to get your hearing tested when your doctor suggests it, even if you believe that you are okay.
When it comes to young adults that are below the 50 thresholds, there are lots of reasons you may also experience hearing loss. These include being around loud noises at work, regularly mowing the lawn and using power tools, shooting guns or other dangerous weapons, listening to loud music both live and prerecorded, having a building up of ear wax, getting hit hard on the head, problems that run in the family, taking certain drugs and having an ear infection. If you think these apply to you, you should speak to someone as soon as you possibly can.
What Is The Standard Procedure For A Hearing Test?
A hearing test lasts about 20 minutes and isn't uncomfortable or painful.
Before your audiologist gets started, they will ask you several questions about your hearing and then check your ears for any physical anomalies. This is done one ear at a time.
For a standard hearing test, otherwise known as audiometry, you will have the opportunity to listen to various tones and volumes through headphones. Every time you hear a sound, you will be asked to press a button as the noises gradually become quieter. As the test quietens, the audiologist will be able to find the softest sound that you can hear.
In some tests, your audiologist may ask you to wear a headband that contains a vibrating pad. This pad sends different sounds through the bones in your head to your cochlea, the hearing organ that is in your inner ear. Again, you will have to press a button every time you hear a sound to help determine whether your cochlea is damaged.
What Do The Results Of A Hearing Test Mean?
Although people may believe otherwise, your hearing test isn't a pass or fail exam. Instead, the results will show whether you have hearing loss in either ear or how much hearing has gone. This is measured in decibels.
Hearing loss can be broken down in the following way:
Mild hearing loss: Hearing sounds at 26 to 40 decibels
Moderate hearing loss: Hearing sounds at 41 to 55 decibels
Moderate-to-severe Hearing loss: hearing sounds at 56 to 70 decibels
Severe hearing loss: Hearing sounds at 71 to 90 decibels
Profound hearing loss: Hearing sounds at 91 to 100 decibels
If your hearing loss has crept up on you gradually, you might be surprised if your hearing test results show that you have mild or moderate hearing loss.
If you're worried about having your hearing testing or you would like to find out more about booking an appointment, you can give Kampsen Hearing a call at (813) 369-5692.